We provide homeowners and builders with high-quality casement Window sales and installations. In our contemporary styles, Casement Windows are hinged on the side so they vent vertically, allowing the smooth turning handle to roll the window open and let in a cool summer breeze. The mechanics inside the Casement were developed through years of experience to keep you comfortable while allowing you to appreciate the custom design and your neighborhood landscape
Aztech Performance Series casement window provides the largest unobstructed view per opening.
It opens up to 90° thus allowing for the best ventilation and ease of cleaning.
It has the highest efficiency of all opening windows:
Air Tightness – A3
Resistance to Wind-driven Rain B7
Wind Load Resistance – C5
Energy Rating – 10.80 W/m2
It opens with a stainless steel dual-arm operator driven by a collapsible crank and has several latches operated by a single handle.
Full internal screen spring loaded for ease of operation.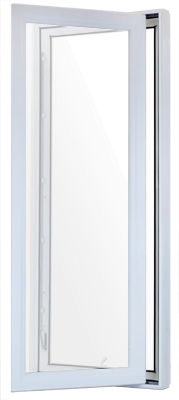 All Aztech Performance Series window frames and sashes are constructed entirely from superior UPVC extruded profile. The frame and sash corners are fusion welded into a monolithic unit to provide a permanent seal against air and water penetration. Aztech Doors & Windows vinyl come in the optimal glossy shine which in the long run offers a more attractive appearance and allows for easier cleaning. Fusion welded corners together with multi-chambered frame and sash provide for maximum durability, insulation and security. Our solid vinyl frames won't rot or warp and are manufactured to specifications with highest of precision. All of our windows meet Canadian and USA standards. They are CCMC approved and conform to CAN/CSA-A440-98.
Standard Window Features:
Sturdy extruded vinyl construction
Fusion welded 3-1/4" frame & sash for superior strength
Multi hollow chamber design to increase rigidity and insulation rating
Warm edge non-metal Super Spacer®
Advanced triple weather stripping for a superior seal
Standard White, 32 additional colours are available
What Our Casement Windows Clients Say
★★★★★


I love my new windows. Aztech did an excellent job. We don't have any draft anymore. Windows open and close very easy and smooth. Great product. Installation crew was also great. Worked fast and efficiently. You can spot professional work.
I am very happy with my choice of doing business with Aztech and would recommend them gladly.
★★★★★
Guys did very nice job. Got myself a beautiful new fiberglass door a month ago. Its been longer then 5 weeks, the door works great, everybody loves it, now some of my neighbors want new doors too. Great price also, I checked.
★★★★★
I love my new windows. Aztech did a great job performance and you see the excellent quality of their product. I would gladly recommend them.