Aztech Performance Series Fixed Windows
Aztech Performance Series picture windows allow for the maximum unobstructed view of any same sized window due to the sleek low profile of the frame. It has no moving or opening parts. It matches well with the special shape, sliding and hung windows to form any combination your architect may design.
LOW PROFILE FIXED (PICTURE) WINDOW
Aztech Performance Series single slider tilt has one fixed (typically the one at the bottom) and one operating sash.  Operating sash moves up and down and can be locked in the closed position with the automatic safety latch.  It is kept from moving on its own in any of the interim positions by a constant force spring coils, similar to those used in the safety belts.  Operating sash tilts in for easy cleaning from the inside of your home allowing ample access to the exterior of the fixed portion of the window.  Internal spring loaded screen the size of operating sash included.
Air Tightness A3
Resistance to Wind-driven Rain B7
Wind Load Resistance C5
Energy Rating – 10.80 W/m2
HIGH PROFILE (FIXED CASEMENT) WINDOW
Just like the Picture Windows High profile fixed windows do not open. They are used in combination with operating casement windows to ensure superior energy efficiency and uniform look throughout the opening.
Air Tightness A3
Resistance to Wind-driven Rain B7
Wind Load Resistance C5
Energy Rating – 10.80 W/m2
All Aztech Performance Series window frames and sashes are constructed entirely from superior UPVC extruded profile. The frame and sash corners are fusion welded into a monolithic unit to provide a permanent seal against air and water penetration. Aztech Doors & Windows vinyl come in the optimal glossy shine which in the long run offers a more attractive appearance and allows for easier cleaning. Fusion welded corners together with multi-chambered frame and sash provide for maximum durability, insulation and security. Our solid vinyl frames won't rot or warp and are manufactured to specifications with highest of precision. All of our windows meet Canadian and USA standards. They are CCMC approved and conform to CAN/CSA-A440-98.
Standard Window Features:
Sturdy extruded vinyl construction
Fusion welded 3-1/4" frame & sash for superior strength
Multi hollow chamber design to increase rigidity and insulation rating
Warm edge non-metal Super Spacer®
Advanced triple weather stripping for a superior seal
Standard White, 32 additional colours are available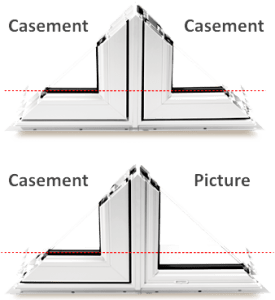 What Our Clients Say
★★★★★


Good job done by Aztech doors. Beautiful front door and sliding door. I got lots of compliments from neighbours and friends. Completely changed the look of the house.
I am very happy.
My Sister also got new windows and doors from them
★★★★★
We are very pleased with our new windows. Aztech windows and doors did great job. We took several quotes and Aztech impressed us the most, with the price and detailed explanation of the whole process. The installation itself was quite fast with good cleanup. Very impressive.
★★★★★
It is a pleasure to work with Myron and his team. Very happy with the windows in our extension.